Banksy is arguably the most prominent street artist in the UK, with Banksy's artwork first appearing across Bristol and then around the world. Living under a pseudonym, the real identity of Banksy remains a mystery, although there are many rumours about who the satirical and political street artist is.
Inspired by the founding members of Massive Attack and graffiti artist 3D, Banksy's work is recognisable through his distinctive stencilling technique combined with his political and social commentary. Read on for our guide on the top 5 most famous artworks by the artist Banksy, from Girl With Balloon to Pulp Fiction.
Girl With Balloon / Love Is In The Bin
Banksy has used the Girl with Balloon motif for almost two decades, and it is a classic Banksy piece. The image itself is simple, portraying a young girl reaching for a red, heart-shaped balloon that appears to be floating away. According to polls, Girl With Balloon is the nation's favourite piece of artwork.
The piece was the subject of headlines around the world when the painting self-destructed immediately after being sold at an auction for £1,042,000, making it the first piece of artwork in history to have been created live during an auction.
Once the Girl with Balloon piece was shredded at the auction in 2018, the work was renamed Love Is In The Bin. It was thought that the self-destruction of the print would cause it to increase in value.
The piece of art was supposed to be shredded completely, with Banksy claiming that in rehearsals, it worked every time. On 14th October 2021, the piece was sold at Sotheby's in London for £16 million, over £4 million more than expected.
Rage / Love Is In The Air / Flower Thrower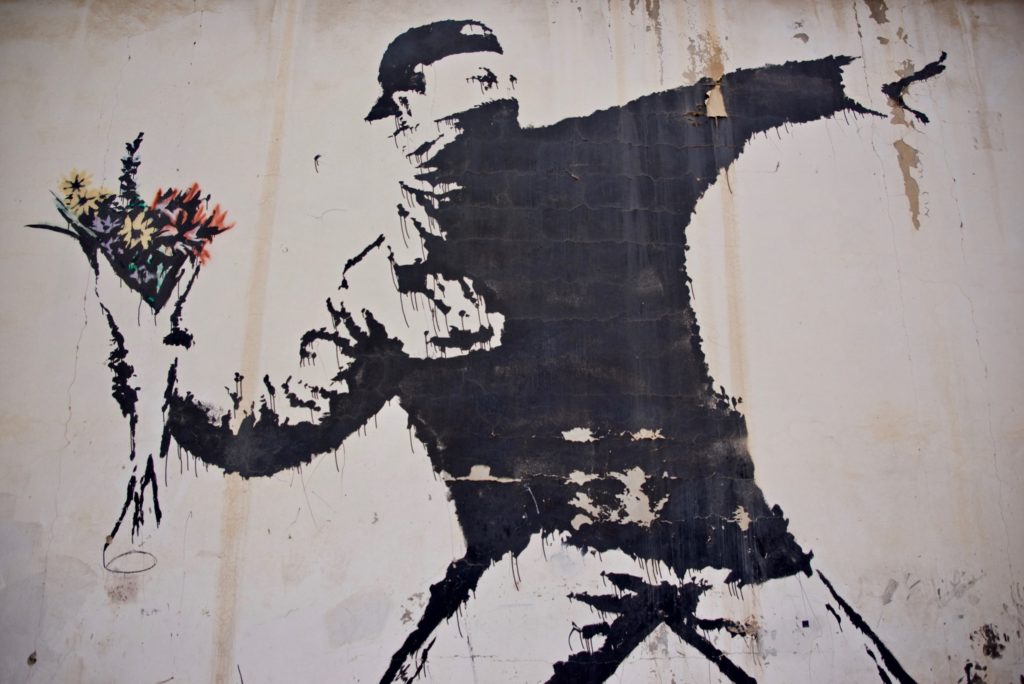 This piece of artwork first appeared in Jerusalem in 2003 on the West Bank barrier wall, the wall that separates Israel from Palestine. This politically motivated piece is thought to have been created in protest against the Israeli occupation.
Banksy is known to be an anti-war activist, which is clear from the message behind the mural. Instead of throwing a bomb, the male protester, or 'masked thug' portrayed in the mural throws a bouquet of flowers, opting for peace as opposed to violence. This is just one of many paintings and murals depicted by Banksy that show support for Palestinian rights.
Banksy also owns the Walled Off Hotel, located against the barrier wall that separates Israel from the Palestinian territories.
This famous piece of Banksy artwork, created in Banksy's classic stencilled style, has been compared to the photo 'Flower Power' from 1967, which portrays protesters placing flowers into the barrels of the soldiers' guns.
There is no denying that Love Is In The Air is a powerful piece, painted in a prominent location. As Banksy claimed, the West Bank barrier wall 'turns Palestine into the world's largest open prison'. The Flower Thrower is not the only artwork on the wall; it can be seen amongst many paintings, prints, and messages that protest against the construction.
After ceasing to reveal his identity to a panel, his copyright to the print was removed. It is an incredibly famous print, seen on phone covers, t-shirts, and many more. In 2013, a Love Is In The Air print sold for $238,776 (£209,104).
Napalm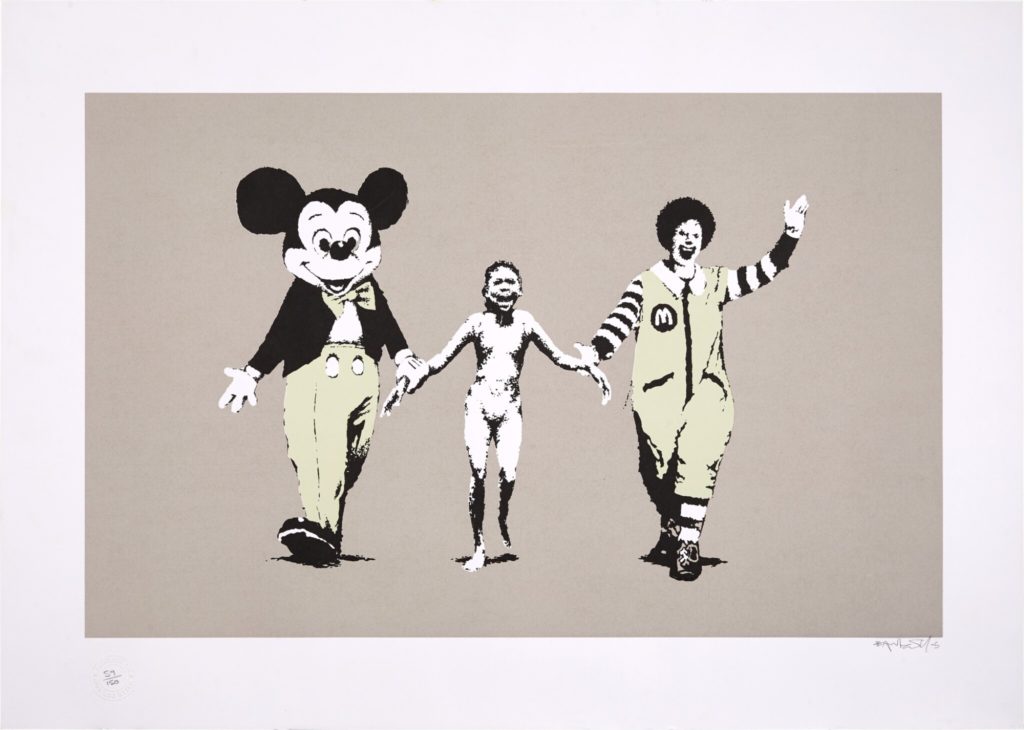 Napalm takes our third spot in our list of Banksy's most famous art, depicting a harrowing image of iconic figures Mickey Mouse and Ronald McDonald smiling whilst holding a naked and crying girl's hands.
The original 1972 photograph from the Vietnam War depicts a nine-year-old girl, Phan Thi Kim Phuc, fleeing Trang Bang after a surface bombing raid by the USA.
Banksy reimaged this photo, adding American figures that emphasise capitalism beside the screaming girl, creating a haunting and hard-hitting piece of art. The print explores how America not only perceives itself but also how it is perceived by others, contrasting the two points of view in one image.
Unlike many Banksy pieces, Napalm only exists as a screen print and was never created as street art. 500 unsigned and 150 signed prints were released in 2004, as well as 27 orange signed proofs, which depicted Mickey Mouse and Ronald McDonald in orange outfits. There were also 27 rainbow proofs, with the two figures in pink ombre outfits.
Devolved Parliament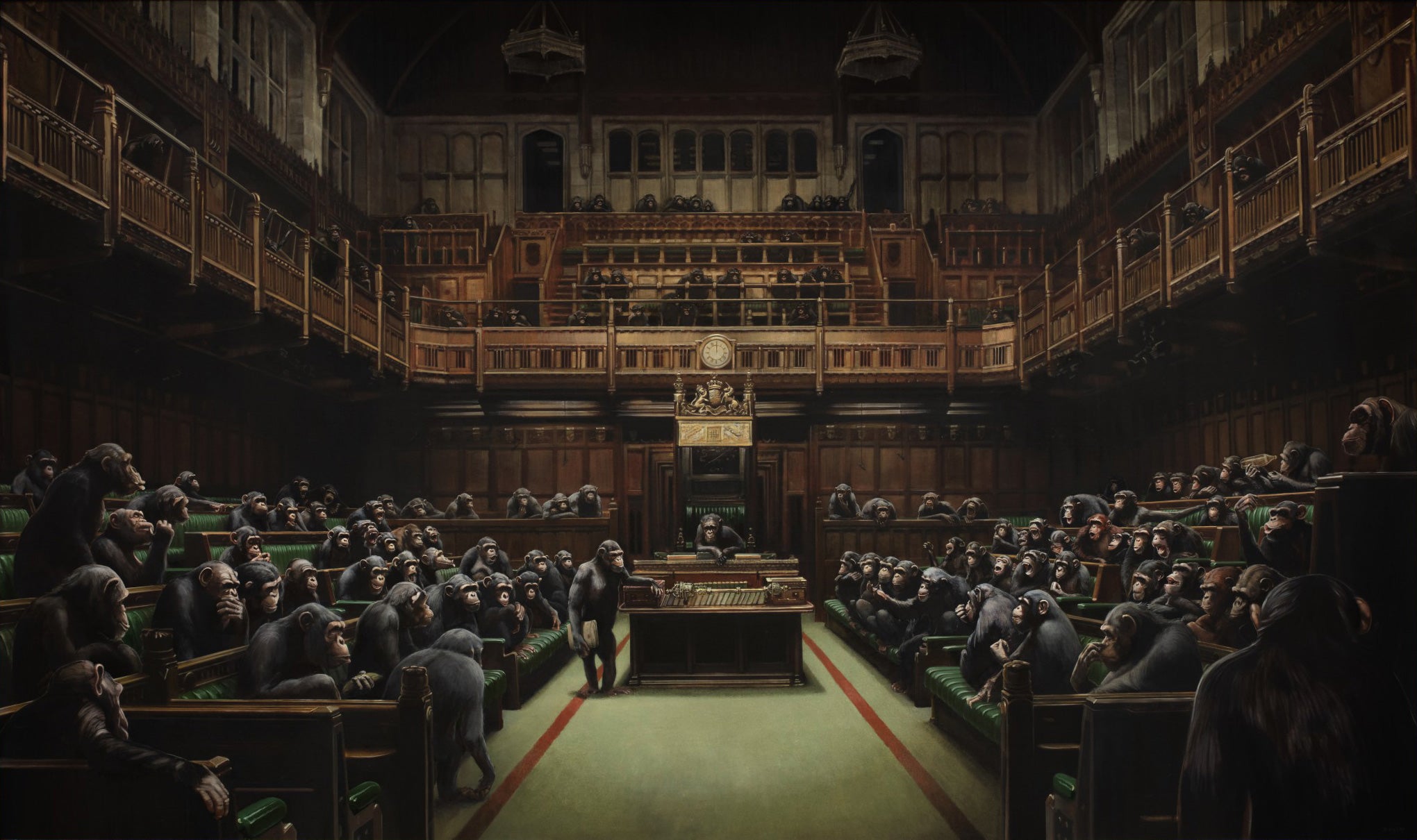 Although Banksy is renowned for his street art, Devolved Parliament, one of his most famous pieces of art, is an oil-on-canvas painting. Appropriately named 'Devolved Parliament', the 2009 painting displays British politicians, depicted as chimpanzees, debating in the House of Commons.
However, the painting wasn't always named this; it was named 'Question Time' before it was reworked in March 2019. This notable piece of art was sold for over $12 million a month before Britain was set to leave the EU.
This isn't the first time that Banksy has used apes as a subject in his art. His 2002 piece Laugh Now featured apes wearing aprons with the words 'Laugh now, but one day we'll be in charge' written on them.
Pulp Fiction
Pulp Fiction is a 1994 film directed by legendary filmmaker Quentin Tarantino and starring Samuel L. Jackson and John Travolta. This smash hit released in 1994 is widely referred to as a cult classic.
Although the musical as a genre is considered relatively new, its roots are old enough to speak of its ancient origins. Thus, at the dawn of the V century BC, the Greek theatre began to practice the inclusion of music and dance in entertainment productions and, a little later, elements of political and social satire.
The Romans, having adopted almost all the forms and canons of Greek theatre, added some of their own to such productions. In particular, the actors' shoes began to be padded with metal plates, making it possible for the audience to hear every movement of the dancers, and this "innovation" forced the staging company to think about the importance of special effects.
This is the inspiration behind Banksy's print 'Pulp Fiction'. The print depicts the pair holding bananas in replacement of guns. The artwork first appeared near Old Street tube station (London) from 2002 to 2007. However, it was painted over by Transport for London.
Banksy hit back humorously; he repainted the piece with the characters dressed as bananas and holding guns. Pulp Fiction prints are popular pieces among art collectors. In fact, in November 2020, a Pulp Fiction print sold for over $160,000 at an art auction.
This is just a select list of Banksy's most famous art. You can find Banksy prints at Grove Gallery; contact our art experts today to learn more or visit our gallery in London.